I happened to be in London this past Tuesday, the second day of the Extinction Rebellion protests in London. For those that don't know, these guys are staging mass protests around London until their demands are met.
These demands are:
• The government tells the truth about how bad the current global warming situation is
• The government pledges for the UK to be carbon net zero by 2025
• The creation of a Citizens' Assembly to oversee changes to achieve the above
Until these demands are met, protests and disruption to travel within London is to take place. As I had to get a train from Waterloo anyway, I decided to drop by Waterloo Bridge (which is currently closed to vehicles due to protesters) and take a look.
As you enter the bridge, various police vehicles are dotted around full of bored officers. Signs are taped to lampposts explaining the protests.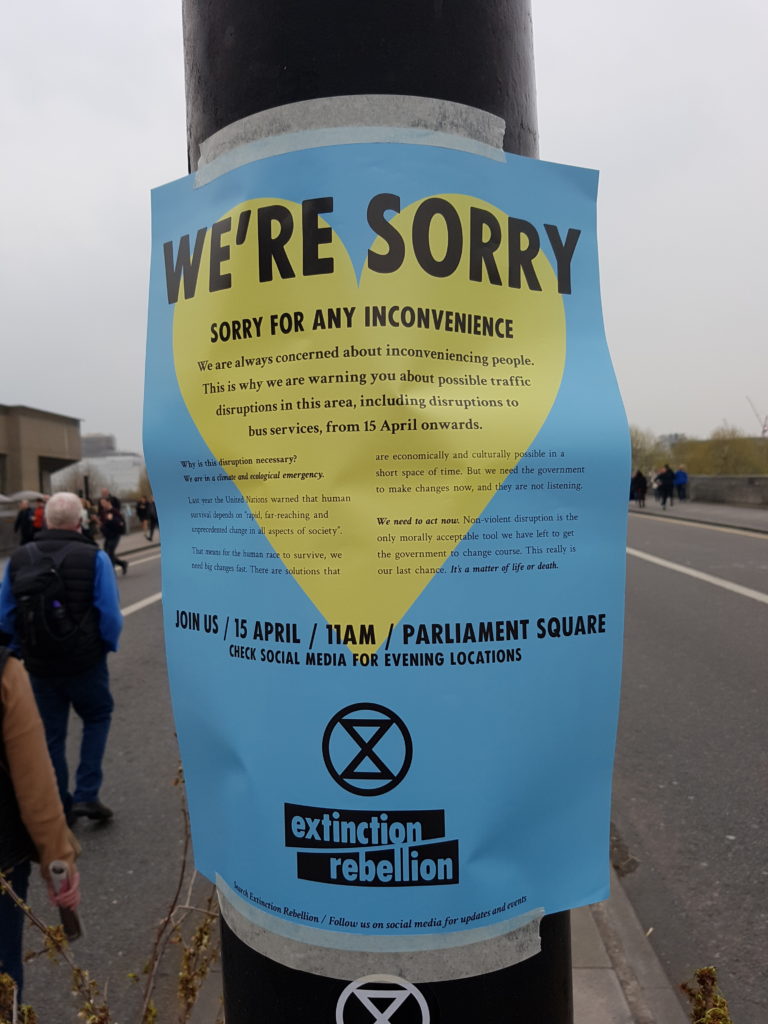 Beneath the signs are bits of litter attempting to be hidden.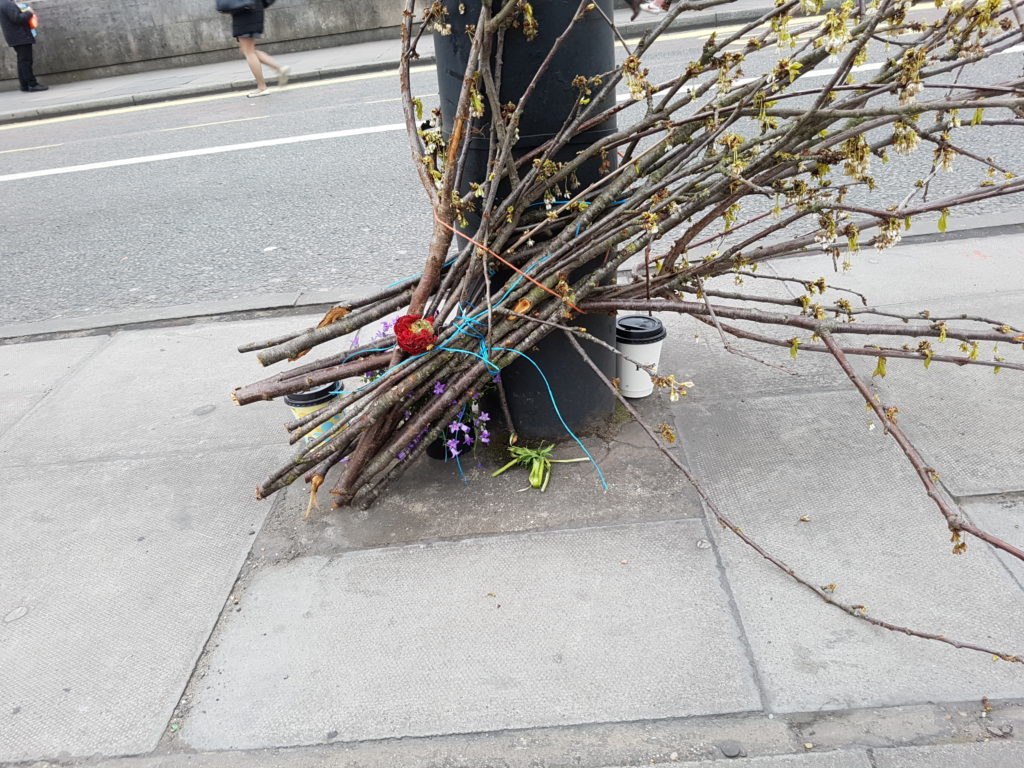 I'll admit that this is a pet hate of mine- environmental protesters always seem to leave so much litter behind when they're finished. Do as they say and not as they do, I suppose.
Walk further on to the bridge, and you will spot your first drum circle.


People were dancing in the area around the drum circle and, amusingly, trying to persuade photographers to join in (none of whom seemed to be having it). "Legal observers" were kicking around here; apparently these are members of human rights groups, here to check that things don't kick off with the police too much. Assumedly the neon jacket makes you immune to getting arrested (try telling that to the French).
Slightly further along the bridge, it was meal time! People are cooking up large batches of what appeared to be a lentil curry, and people were queuing up for it. There was also a place for the washing of dishes. I suppose that as people are camping out on the bridge, you need some way of getting food to the masses!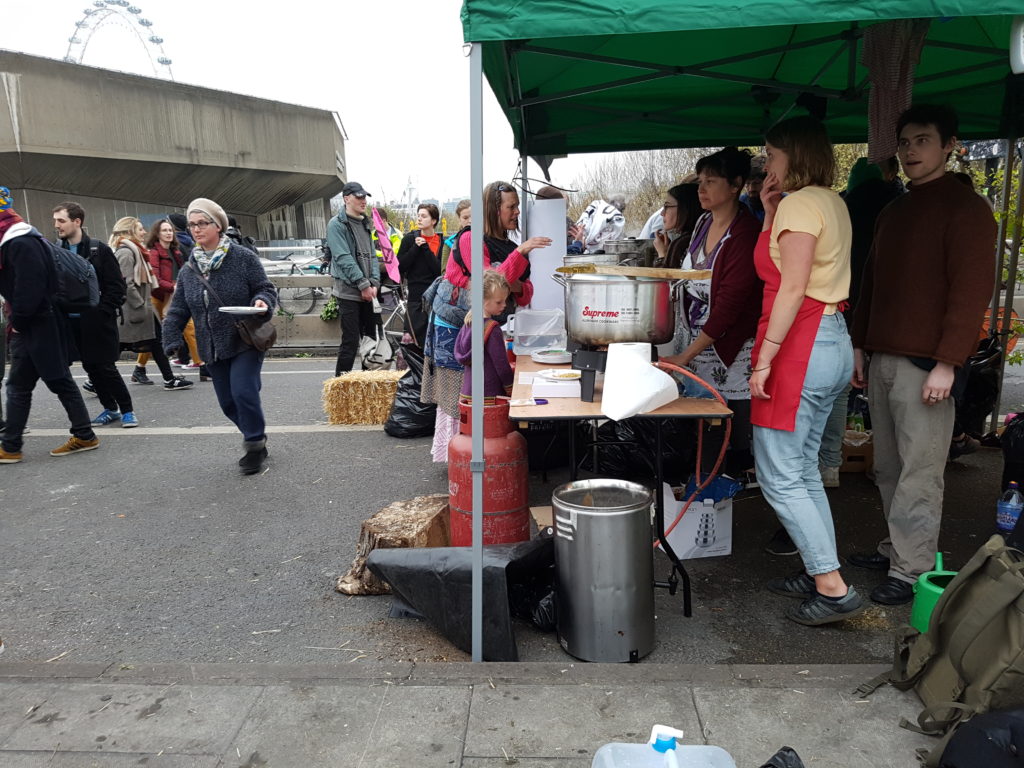 The mood was pretty sedate. People were sat around eating and chatting. The police looked bored.


A bit further up was one of the main events of the protest- the lorry which had been used to force the road closure. At the time, it was being used as a stage by a band.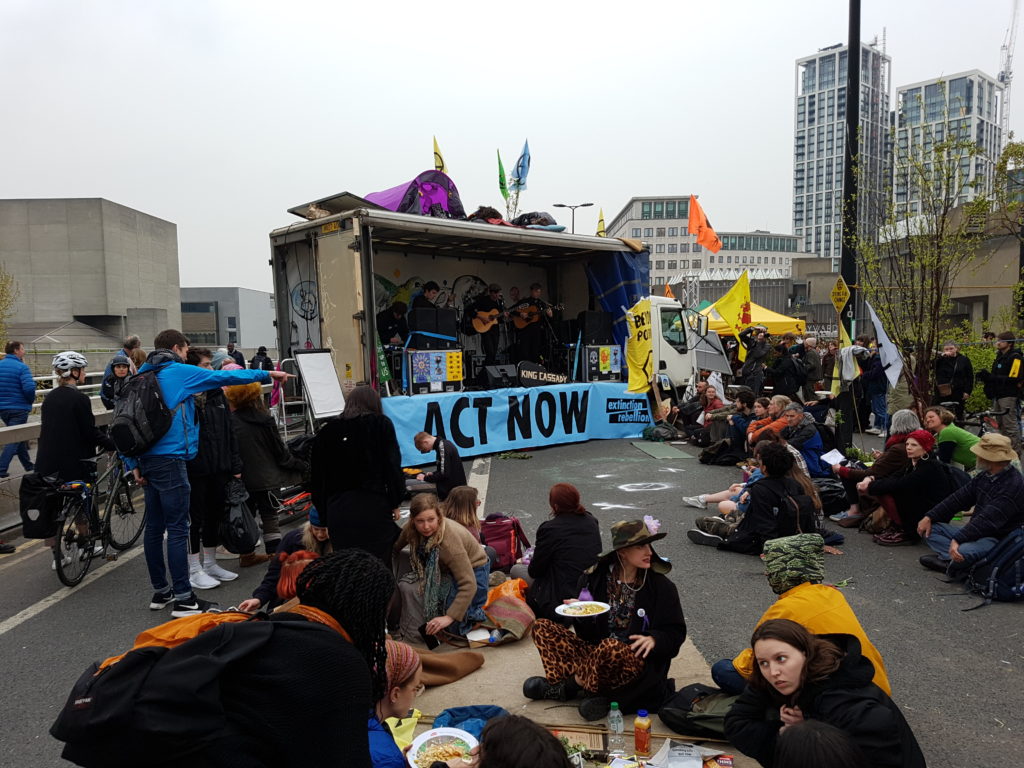 People are sleeping on the roof of the van to make it harder to move, but the piece de resistance- people are chained to the underside of the van. They're protected from view by the skirts, but were being brought refreshments when I was there.


The bridge was generally quite scenic. Lots of trees and plants in pots had been set up.


Various signs and banners had been hung within them.


Amusingly, a skate ramp had been set up further along the bridge.


Various slogans have also been sprayed on to the road.


When I was there, only a small amount of news coverage was happening.


There was however a Chinook flying over the area.


From Waterloo Bridge, I walked down towards Jubilee Gardens. This took me past the Shell offices in London, which had been a site for protests the previous day.


There'd been people sat up on the glass awnings on Monday, but there was nothing much happening when I was there; again, lots of bored looking police.
The protests are still ongoing, and I'm up to London again tomorrow (Saturday). Let's see what disruptions they have planned for then!