In my previous post, I left you with photographs of the Kiyomizu-dera Buddhist temple in Kyoto.
Next up in Kyoto for us was the famous Golden Pavilion! This Buddhist temple actually has two names. It is officially called Rokuon-ji (meaning Deer Garden Temple), but is known colloquially as Kinkaku-ji (meaning Temple of the Golden Pavilion).
The temple originally started out as a villa called Kitayama-dai. In 1397 the villa was purchased, and conversion in to the temple complex seen today began. During the Ōnin civil war in the 1400s, all buildings bar the pavilion were destroyed. The pavilion itself was burnt down in 1950 after a monk attempted suicide by fire on the hill nearby. As such, the present structure dates back to 1955, when it was rebuilt. The reconstructed version of the pavilion is said to be faithful to the original, although there is some dispute as to how much gold leaf was originally in use.
As with many temples in Japan, Kinkaku-ji sits in beautiful gardens, alongside a lake.
The grounds contain the usual fare of tea rooms and places to receive blessings, although there did not appear to be any other shrines sharing the grounds.
The grounds of the temple are quite large, and provide an excellent place to walk. Unfortunately, it was not possible to enter the temple when we visited (I'm unsure if it's ever possible).
From Kinkaku-ji, we headed to the Arashiyama district to visit the famous Sagano Bamboo Forest. We parked a little away, and decided to walk there. On the way we walked by a small pond, which had some wading birds in it.
It's interesting to see that Japan has the same herons and egrets that we get back in the UK- I'd been imagining that they might have something more exotic!
After a reasonably short walk, we made it to the (very busy) bamboo forest.
In my mind, bamboo is the canes that you see at garden centres for holding up other plants. I'd never really thought of it as being so huge!
With the slight wind blowing, the bamboo rustles gently as it drifts back and forth.
There was quite a lot of places to walk within the area, and inadvertently learn about local business; we walked past a bamboo processing site, where great canes of it were being dried and processed.
A train line also runs through the area with a small pedestrian crossing, posing the opportunity for a train photo. I'm turning into my dad.
Within the forests there were also some small shrines, but by this point we were feeling a little temple-d out for the day and so decided to skip them.
We did however meet the coolest dog we've ever seen!
He had an excellent shirt.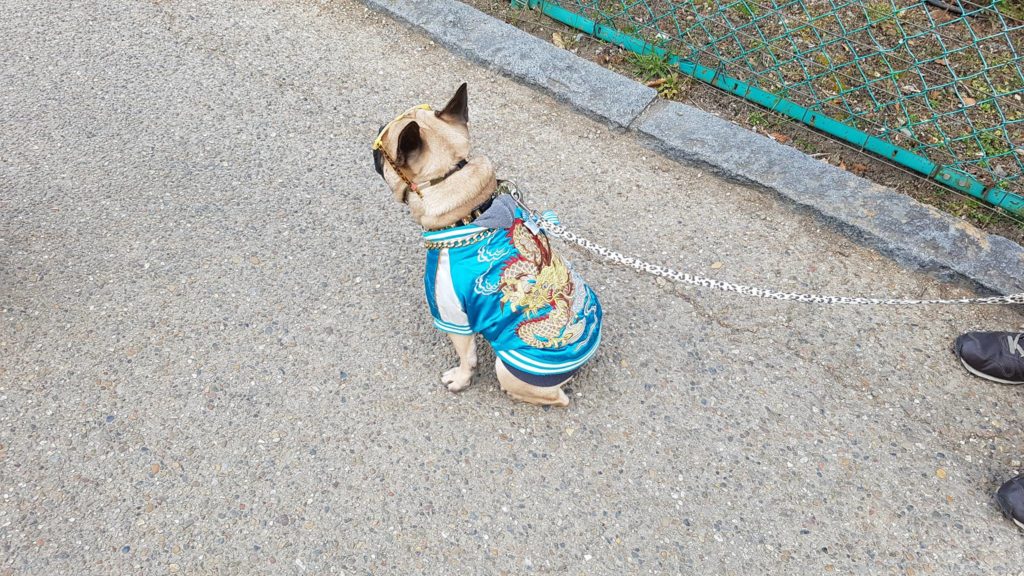 We still had some time to kill today, we decided to check out the shops in Kyoto for the evening. As it turns out, it's not just Tokyo that's home to animal cafes. I present to you, Tom's Mr. Hedgie café!
Located in the Nakagyo district of Kyoto, it made for an interesting place to stop off. Holding a hedgehog was pretty cool, though mainly they wanted to just sleep (I don't blame them to be honest).
Seeing the hedgehogs up close was cool, if nothing else! We kept handling to a minimum because, well, they're pretty spiky.
From here we walked on to the Nishiki Market, which starting to wind down for the day by the time we arrived (around 7PM).
I quite enjoyed this market. If I was to visit Kyoto again I'd try and eat here, or perhaps even rent a place with a kitchen to stay so that I could try cooking myself. This market specialised in food, and it's just so interesting for me to see how the fares differ from what you see back in Europe.
There was a real focus on seafood here, assumedly because of the proximity to Osaka (a port city).
For reference, £1 is about 150 yen.
As we'd just eaten I did not try an octopus on a stick- maybe next time!
After wandering around the markets for a little, we departed for our next destination- Osaka!