Day 4, we finally ventured outside of Tokyo! When looking on TripAdvisor for things to do, we had come across a day-tour (starting in Tokyo) by a company called JTB Sunrise Tours. This tour would take us by train up in to the mountains about an hour North to see the snow monkeys living in the hot springs. Sounds lovely! It was a bit expensive (I can't remember what we paid, but a quick search suggests the price has gone up by quite a bit), but I quite enjoyed it. One could organise it all yourself for cheaper, but due to the issues of language barriers it was very convenient to have a guide/chauffer for the day. The tour took us around a few places, as can be seen here:
We booked the tour whilst we were in Japan, with only a couple of days notice. The company purchased train tickets for us, and required that we provide details of a hotel for them (and other info) to be posted to. The hotel was quite happy to oblige, and as we were staying in this one for a few days, it worked well.
We had quite a way to travel to make it to the hot springs, and so we were up bright and early to leave our hotel at 6am. Subway in to the city, 117 miles by train up north-west to Nagano station. Here we met our guide for the day, who conveniently carried a little flag with the company logo to make him easier to find.
By the time we got to Nagano I was feeling a little snacky (as were others in the group of ~8 people), and so we stopped by a convenience shop. Here I spotted a package that featured the English text "fish-almond".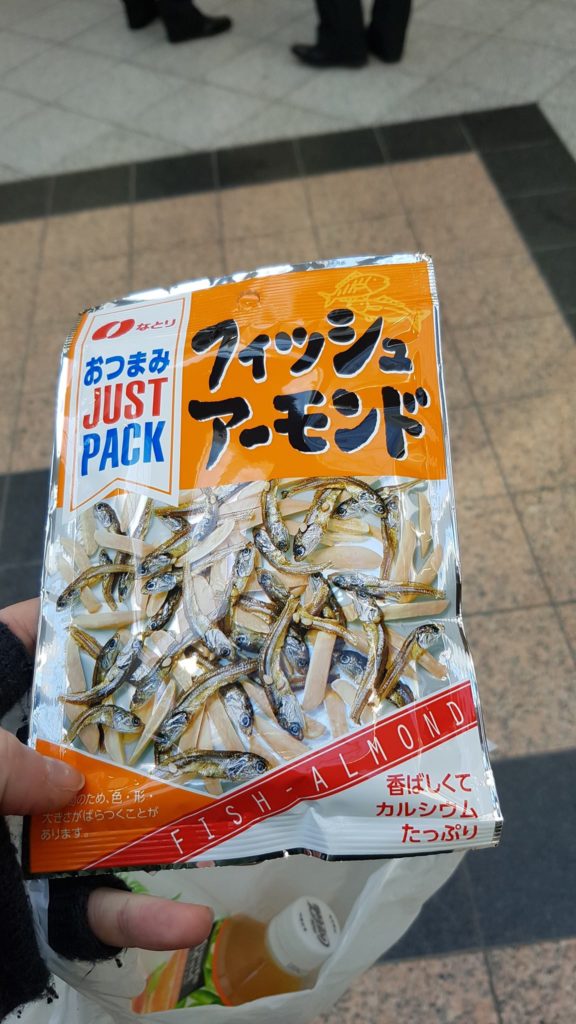 I'm not really sure what I expected.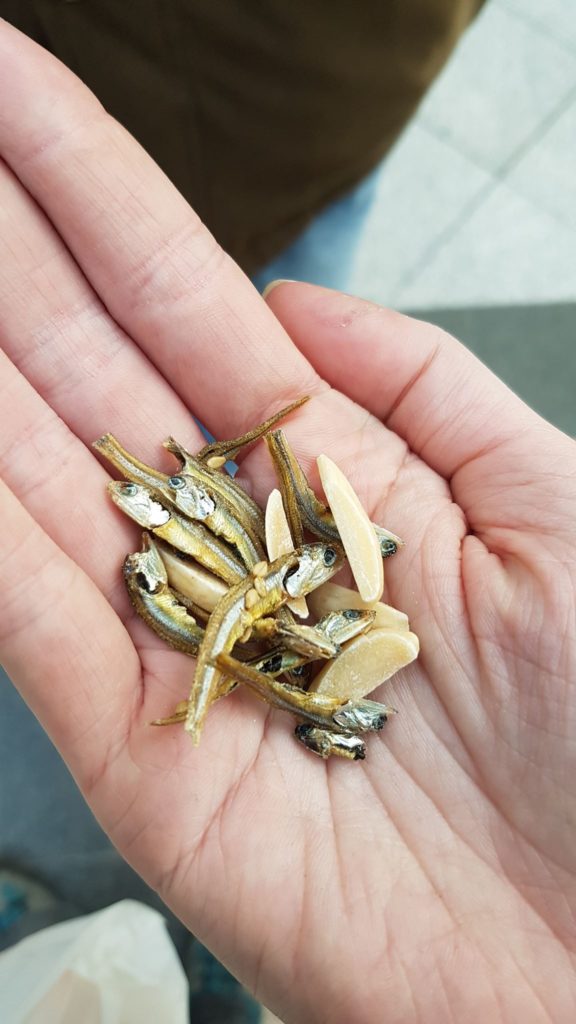 Still, I enjoyed my snack. See prior comments about me being willing to eat almost anything.
From here we were herded on to a coach to take us to the area of the nearby Buddhist Zenkō-ji Temple. We wandered a shopping street here, buying souvenirs and learning about the area. The city of Nagano is apparently famous for making soba noodles, and giant apples. As part of the tour we were to have a sampler meal of the various local produce for lunch, after visiting the nearby temples.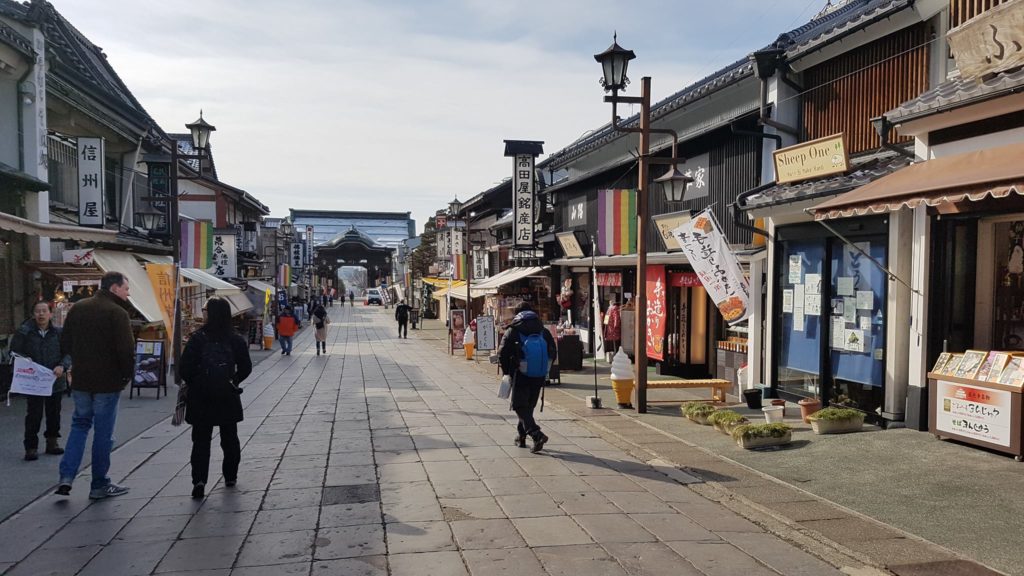 On this street is the Zenkō-ji Temple Deva, a giant archway with containing great statues.
Unfortunately the combination of the harsh lighting and the mesh on the front of the enclosures meant that I struggled to get a good photo of the internal statues, so you'll just have to trust me that they were quite impressive.
These statues, known as Nio guardians, guard the temple. One Nio guardian has his mouth open, and the other one closed. The guard mentioned some symbolism in this, which I have since forgotten- a quick search online suggests that it may be because when we our born we cry (i.e. mouth open), and when we die we are silent (i.e. mouth closed).
Also of note here is the numerous pairs of sandals strung up. The guide informed us that this is good luck to do, as it honors the long journey of Zenkō-ji.
A short walk up the main street we reached the grounds of the main temple of the area, the Zenkō-ji Temple. This temple was reportedly built in the 7th century, and was beautiful to see.
The temple grounds are huge, with numerous other buildings of interest to visit. They feature numerous statues of Buddhist monks, all wearing red (or rather pink due to sun-bleaching). Red hats/capes on statues is a phenomena seen all over Japan; it is because the colour red is said to be associated with life, death, and demons. It brings health, it takes it away. It brings demons, it repels them. Japan is quite superstitious, and red is a very important colour in all of this.
The series pictured above is known as Rokujizō, and represents the six Bodhisattvas, who gave up Buddhist enlightenment, in order to provide salvation to others. They are said to commune with hell, starvation, beasts, carnage, human beings and divine beings. Perhaps their red hats and cloaks assist them in this endeavour.
The temple grounds featured a lot of the features seen at most temples: hand stations for hand washing, places to hang prayers and wishes, and places to burn incense.
Of course, there were also stalls to purchase such tokens.
Taking photos within the temple itself was not allowed, but it was quite beautiful. If I could I would love to spend a couple of days there so that I could watch the daily early-morning procession to the temple/service being held.
The grounds were beautiful to explore, and there were many other structures to see.
As you can see in the above photos, it was quite cold when we visited- well in to the negatives, though I couldn't tell you how much by. This made the fountains of the temple particularly spectacular!
At the entrance to the compound was another large building, which I am unsure of the name of. To go up this building required purchasing of a ticket, and borrowing of a pair of slippers as it was a shoe-free zone. I would recommend going up this building as it provides excellent views of the surrounding area, albeit from behind a mesh. This building directly faces the main temple, as seen here from the doorway of the temple:
Being able to get a vantage point was quite handy for scoping out structures of interest in the grounds, as well as seeing the distant mountains which we would be heading up in to after lunch.
Temple trip concluded, we head back to the aforementioned shopping street for lunch. We visited a small Soba noodle shop, where we received our tasting boxes.
It was here that I discovered the seasoning furikake, a sesame seed-seaweed mix that is to be sprinkled on rice. It's one of my favourite foodstuffs from Japan. I bought several bottles, and have since been very upset to discover that the brands which ship to the UK aren't as nice. I suppose that one day I'll have to go back and buy an entire suitcase worth.
My travelling companion and I enjoyed this food very much, getting extras of some things. Amusingly an American couple who were on the tour (who to be impolite, did not look like they turned down food often) turned up their noses at it, refusing to even try most of it. I'm not sure why you'd go on a tour that features local food if you don't like eating food that isn't what you're used to, but there you go.
From here we wandered back up the street towards our awaiting coach, ready to proceed on to the snowy mountains to see some monkeys!
Photos of monkeys are to be provided in my next post.