In my recent trip to Las Vegas, I spent a couple of days in Death Valley. This is a huge national park a couple of hours from Vegas, straddling the Nevada-California border. It is incredibly warm there (being a desert and all), and by average temperature it is the hottest place in the world. It features the lowest land point in the continental United States, with Badwater Basin being 86m below sea level. It also features a large number of mountains, the tallest being Mount Whitney at 4,421m above sea level. The park itself is huge, taking up 13,650km².
We came in to Death Valley from the Amargosa Valley side, having spent the night at the Longstreet Inn Casino & RV Resort. This was our base camp for the trip, and seemed a decent place to stay. It was here that I discovered the breakfast skillet, which became a breakfast staple for the trip.
Driving in to the park was interesting, as it was my first real experience of seeing the area (having headed to the hotel after dark). They are amazingly long and straight, I guess because the area does not feature all of the hills and woodlands that I have become accustomed to seeing in the UK.
A short distance in to the park we saw something weird looking by the side of the road and pulled over to take a look. It appeared to be an RV parking area, but it was full of the remnants of the previous inhabitants. This included the obligatory rubbish and leftover gear, but also some strange attempts at decoration.
I have no real explanation for what we were looking at, but it was pretty novel. It seemed to be partially constructed from rubbish, but it also featured seemingly random objects. Apparently a trip to a hardware store had occurred, as the floor was littered with pieces of door handles/locks.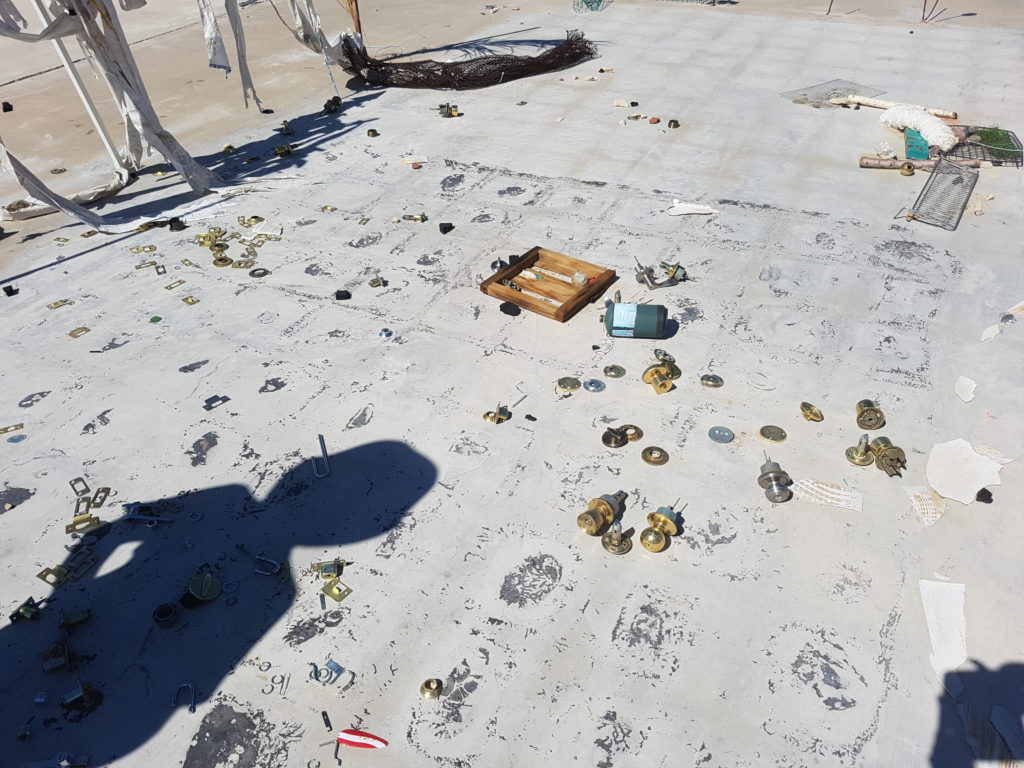 After taking a few pictures of the weird RV park, we drove on. We picked up a park map/paid park fees and after working out where we were, decided to head to a scenic spot called Dante's View.
To get to Dante's View we took a drive up a narrow windy path through the hills, until we reached a carpark.
This carpark was absolutely swarming with dragonflies. Death Valley seemed pretty devoid of life, and it was a shock to see such a huge number of these bugs. I tried to grab some photos of them, but they never stopped flying and so I was unsuccessful.
The views from the carpark were already beautiful, but to get to Dante's View proper we had to walk along a ridge.
Dante's View is a 1,669m high point in the Black Mountains that looks out over Death Valley, including the Badwater Basin salt flats. It was a bit hazey out and so we couldn't see completely across the basin, but the views were some of the best of the trip.
It was incredibly hot and arid up here, with no shelter.
Thankfully, my friend's rental car had good aircon! I quite enjoyed the driving in the area, the scenery was just so different to what I'm used to seeing here that it was super interesting. I'd definitely recommend air conditioned sightseeing in a car for Death Valley.
After Dante's View, we drove on to Zabriskie Point. Zabriskie Point is an area characterised by huge build-ups of sediment from the Furnace Creek Lake, which dried up millions of years ago. The formation consists of giant alluvial fans of material, creating a very dramatic landscape.
Various areas of the landscape here have been given more specific names. The peak in the center of the above photo is known at Manly Beacon, and the area to the right is Red Cathedral. It has been suggested that the darker marterial existing at higher points than the rest of the area may have been lava flow, leading to slower erosion than the surrounding materials.
From here, we drove on towards the ironically named Devil's Golf Course.
This is a large salt pan on the edge of the one seen from Dante's View, and was once covered by a body of water called Lake Manly. As this area is slightly elevated above the level of the rest of the Badwater Basin, it has been weathered more dramatically. Previous exploratory work has found that the salt and gravel beds here extend to a depth of more than 300m.
A short drive from the Devil's Gold Course is the main salt flats of Badwater Basin.
By the time we reached here it was about 1pm. The various signs said that we really shouldn't be taking the walk out to the main flat from the carpark.
Me being me, I decided that it would probably be fine and so went for it. As it turns out, this was not my brightest idea. The area around the carpark was quite interesting as it had some water, but I decided I wanted to see the proper flat.
Still, the ground was quite gravelly/muddy around here and I wanted to see the pure white salt. The walk out to the main flat was about half a kilometer, and even before reaching it I started to feel a bit uncomfortably warm.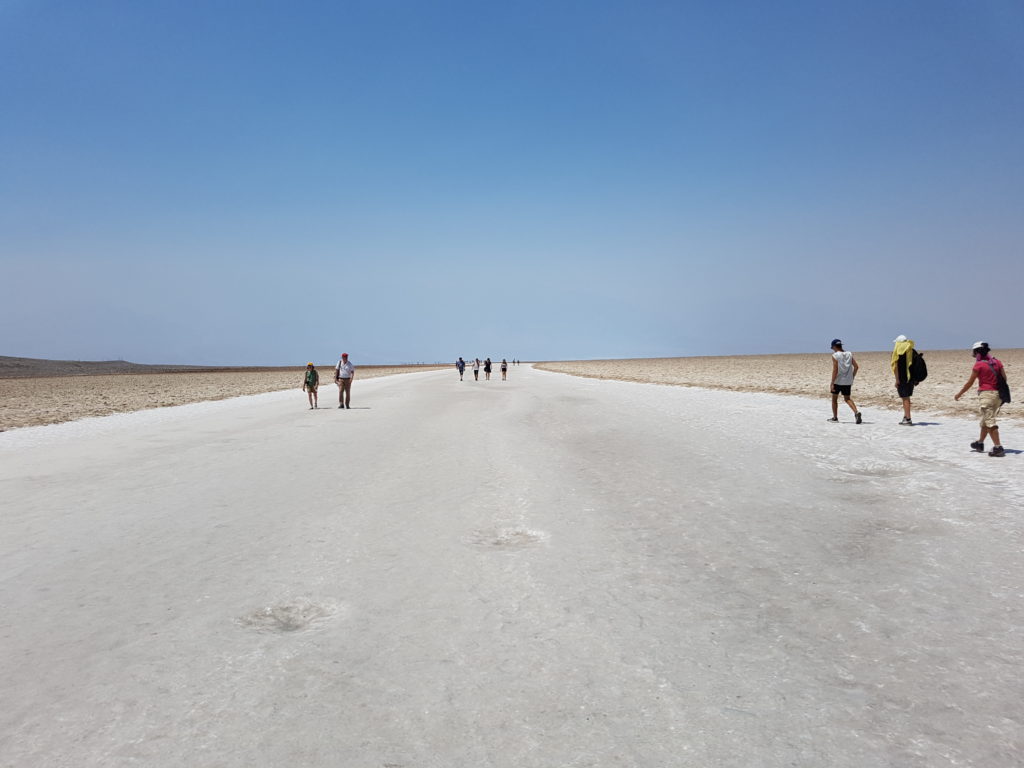 Still, I really wanted to see it and so persevered. By the time we got there, I really didn't feel very well. I took a few pictures over a couple of minutes before turning back.
The view really was quite dramatic, but I wasn't in a state to enjoy it. I certainly wasn't going to sit around and do yoga like some people seemed to want to.

The walk back felt like it took an age, despite just being half a kilometer.
By the time we made it back, I felt quite ill. I felt like I was going to pass out if I walked any more, and was concerned I was going to vomit. Sipping water on the walk did not seem to negate this. Sitting in the air conditioned car made me feel a little better, but it still took 3 hours until I could bring myself to walk again. Luckily for me, Death Valley is huge and so I got to sit in the car for a long time during the drive to the next location.
We stopped by Artist's Palette briefly, but at this point I wasn't up to getting out of the car. Conveniently, America seems to try to place carparks as near to destinations as possible and so I was able to take photos from the car window.
These colours are caused by the oxidation of different metals. Iron produces the red/pink/yellow, mica produces green, and manganese produces purple. This is one of the more volcanically active areas, and we did see what appeared to be lumps of magma as we drove by. From here, we headed to the Death Valley Visitor Center And Museum to grab some more water and have a rest. A big thermometer out front was able to tell us exactly how hot the area was.
122F is equivalent to about 50C. The heat was different to that I had experienced in Greece, as it was so dry. You didn't even feel sweaty as it evaporated off of your clothes as fast as you produced it. We got some food and drove on to Panamint Springs, a village a fairly long drive away.
From here we went on to Darwin Falls, a famous waterfall on the stream that provides Panamint Springs with its source of water. Because of this, visitors are signposted to please not swim in the water. A fair bit of walking was required to get to the falls, but thankfully the sun was lower in the sky by this point and so shade was available.  There were lizards, grasshoppers, and dragonflys everywhere in these areas of shade.
Getting to the falls itself was a bit difficult. The area wasn't really signposted so we just followed the stream upwards, climbing over boulders etc. in the hopes of reaching it.
In the end, we were successful.
The falls were quite small, but that was to be expected really by the size of the steam. Still, I felt something of a sense of achievement for reaching it. We watched frogs fail at catching grasshoppers before heading back down.
From here we headed back towards the hotel. We stopped by the Mesquite Flat Sand Dunes en route, but didn't feel like doing much more walking and so admired them from a distance.
As dark fast approached, we decided that we would drop by the abandoned town of Rhyolite to see if there were any spooky ghosts. This was a story in itself, and so will be in a later post!