This post deals with my adventure to Girona in Spain.
Day 1: https://vicharkness.co.uk/2017/05/11/3-days-4-countries-part-1/
Day 2: https://vicharkness.co.uk/2017/06/28/3-days-4-countries-part-2/
Day 3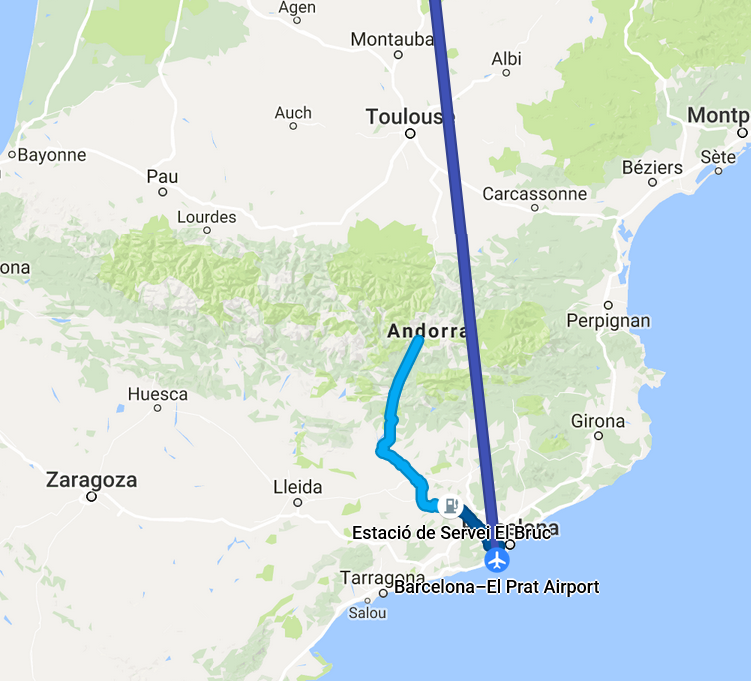 Waking up in Andorra, the storm had passed.
I was due to meet someone in London that evening, so we set off fairly early. Unfortunately this meant that everywhere was still shut. We could certainly see the attraction of skiing in Andorra; the valley is surrounded by tall, snow-topped mountains. Andorra is also known for being something of a tax haven, and we certainly noticed that the petrol stations there were very cheap and sold massive boxes of cigarettes! The one thing that was open upon our departure however was the border control point.
We were immediately waved through on the basis of our English license plates. We did ask if we could get passport stamps anyway, but the guards would not indulge us 🙁
Driving out on Andorra through the Pyrenees down in to Spain was beautiful. There was a lot of low cloud still after the storm, but if anything it added to the views!
By the time we made it out of the mountains and in to Spain, we realised that we were making pretty good time, and so decided to pull over to take some photos.
We ended up at the foot of Montserrat, a huge mountain range near Barcelona (the location of my flight). We spotted a church a little up one of tracks, and so walked up to it.
I'm told that up in the peaks of the mountain range is a beautiful monastery. I'd love to return to Montserrat and climb them, it seems to have the potential for some amazing views! Unfortunately this seems unlikely to happen any time soon due to my ankle 🙁
After we spent some time here we continued on towards Barcelona, where I successfully caught my flight and made it in to London for my meeting. All in all it was an excellent trip, and sleeping in a car wasn't nearly as bad as anticipated (for me at least)!