This post deals with my adventure to Girona in Spain, carrying on from day 1's adventure: https://vicharkness.co.uk/2017/05/11/3-days-4-countries-part-1/
Day 2
Waking up on the side of a motorway was pretty convenient, and meant we could set off again pretty fast! For day 2, we aimed to get to Andorra. We had a couple of stops we wanted to make en route though. First stop, Dune Du Pilat! This is the tallest sand dune in Europe, weighing in at 110m tall above sea level, 500m wide and 2.7km long. It is situated in the Arcachon Bay, and is about 60km from Bordeaux.
The friend that I was traveling with is very in to paragliding, and so we hoped we could do some there! As it turns out, the weather was pretty bad for it with high winds. My friend was still able to get some flights in though, as were various other people!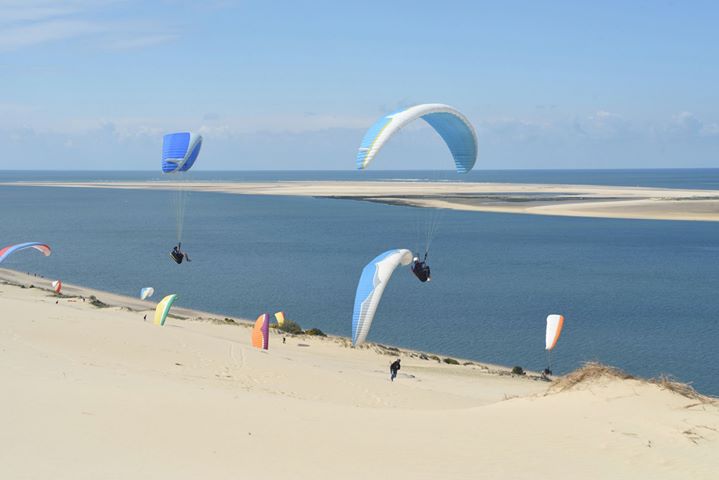 Even though I didn't get a chance to fly, I enjoyed walking along the dune and got some great photos of my friend flying!
There were various gift shops and cafes at the bottom of the dune, and we managed to get some nice steak hache in one!
Next destination on our trip was the french town of Condom, because we are immature.
We decided to stop and have a little wander around the town to grab souvenirs, when we discovered that the town actually had a Cathedral! I'm a sucker for pretty architecture, so we decided to take a look.
The Cathedral was practically deserted (probably to do with it being early afternoon on a week day), and we had a really lovely time looking around. The inside is beautiful!
It's certainly worth having a look if you're in the area!
After visiting Condom, we head on to our final destination for the day- Andorra! We had hoped to get there before nightfall, but as it was already getting dark when we were a bit out, we stopped off at a Buffalo Grill for some food. Then, under cover of night, we began our ascent in to the Pyrenees mountains, towards Andorra.
This turned out to be quite a dramatic drive. As we got higher, the temperature dropped, until we were driving in the snow.
The higher we got, the worse the snow became. In the end we were driving very slowly through a flurry, being very thankful for the lights at the edges of the road. The temperature was so low that we agreed we wouldn't be able to stop and wait the storm out, we would have to keep driving to Andorra.
Eventually, a bit after midnight, we made it! The security check points appeared to have been shut down by the weather, and so we just drove straight in. We found a quiet car park, and bunked down for the night. Thankfully the weather was a lot better in Andorra (it seems to be in a slight bowl).