I've previously posted about flooding in Lancaster, but this weekend the flooding came back with a vengeance. At about 10:30PM on Saturday, we experienced a power cut. A few hours prior I'd noticed that the automatic lights in our kitchen were not working. I do wonder if that was part of the power cut, and that the University generators had kicked in covering enough facilities (i.e. my bedroom light and my PC) for us to not have noticed. When the power in my room went off, I wandered in to the corridor to confirm with flatmates that they had no power. In the corridors of our building and the kitchen, we had some low levels of lighting. I wandered down to the Porter's Lodge to see what was happening. They weren't entirely sure, and told us that it was probably temporary and to wait until morning. Annoyingly, I didn't have any WiFi or even phone signal (as it turns out, the phone signal repeater that covers Graduate College is powered by the University's power supply), and so I just went to sleep.
When I woke up, I checked my phone to see if I had WiFi. I did not, and so went back to sleep in the hope that the power would be back soon. Around 10am I admitted defeat, and got up to investigate the lack of power. Annoyingly we only have electric hobs in our kitchen, so I couldn't make tea. We also did not seem to have any water. I wandered down to the Porter's Lodge again, and saw that they had provided an update via a sign: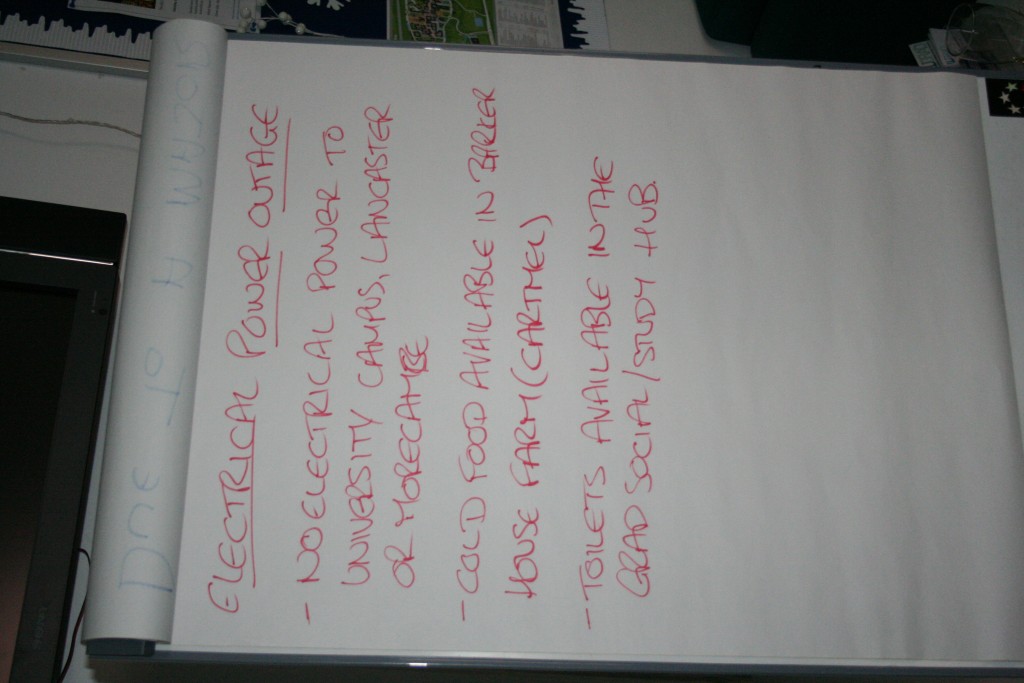 From discussions by students around the Porter's Lodge, I heard that the power substation had flooded, and so the entire area (Lancaster, Morecambe, Heysham) had no power. The power was also not expected to return until Tuesday evening. I headed to the Barker Farm House as per the sign to see what they had on offer there. There was quite a bit of water around the entrance to the building.
Thankfully, the picnic bench seemed to have been placed to act as a step.
I suppose I'd come in late, as a lot of the food was gone/they seemed to have run out of bowls. There was fruit available, as well some cereal and bread. There was also tea and coffee, so I had a breakfast of watermelon and tea.
After breakfast, I decided to go for a bit of a wander. I went to see how the campus chickens were doing, and they seemed to be quite happy with all of the mud.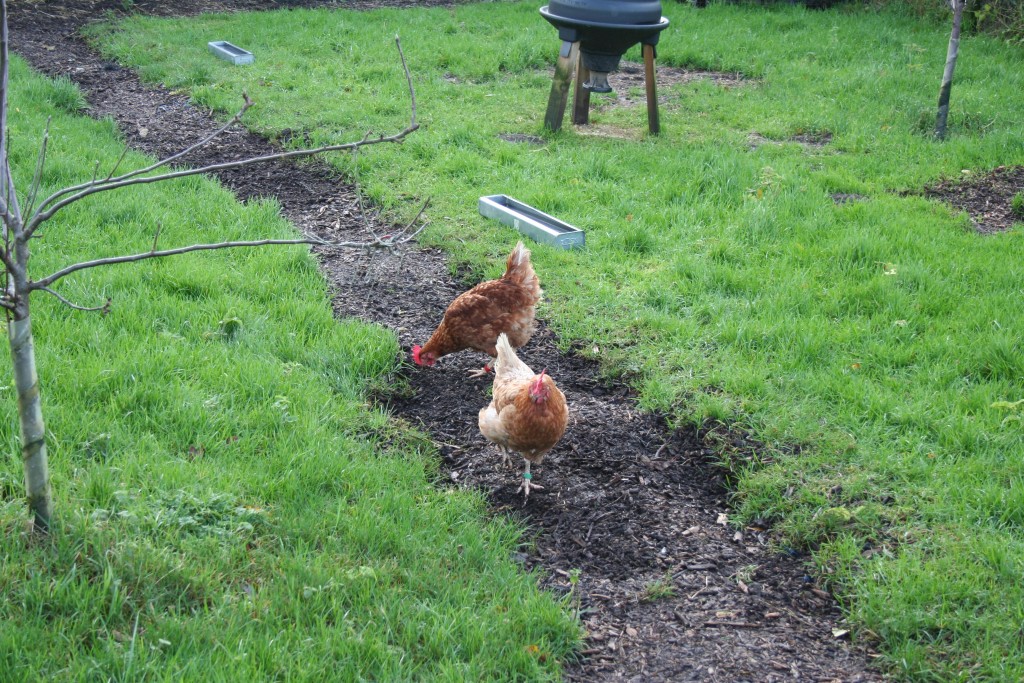 In general, the water levels on campus didn't seem to be too high. It was certainly a lot worse last time there was flooding. I'm told that the river banks had burst which is what caused the power station to flood. Apparently there had been improved defenses built recently after previous flooding, and these defenses were supposedly suitable for a "1 in 100 years massive flood". They failed and the power station flooded, despite the Fire Service being present and helping to pump water out of the power station as it was flooding. I decided to wander around campus a bit to see if anywhere on-site was particularly flooded, as the deepest I could find in the Graduate College vicinity was here:
The walk across campus was interesting, as it was the busiest I've ever seen it (even during the times when people go to/from lectures). Lots of people milling about with their phones, trying to find signal.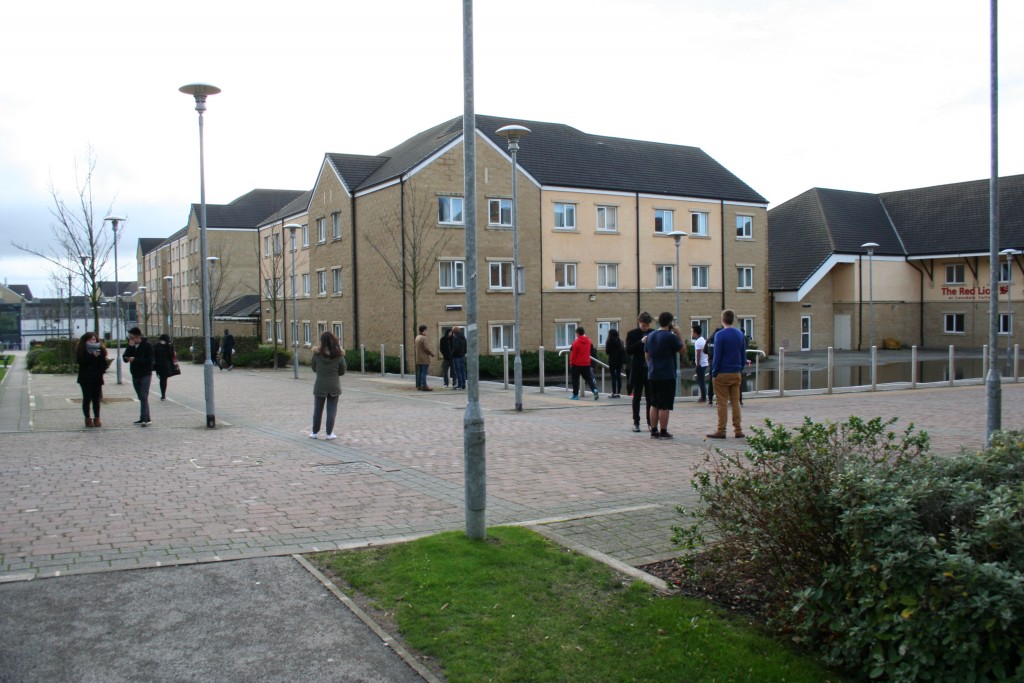 While walking, I heard a helicopter go overhead.
I'd heard some the night before, they seemed to be circling overhead. I'm not sure if they were surveying the water levels in the area, or just taking pictures for the news.
The small shop on my end of campus was shut, with a member of staff stood explaining to students that it will not be opening due to them having no water/power.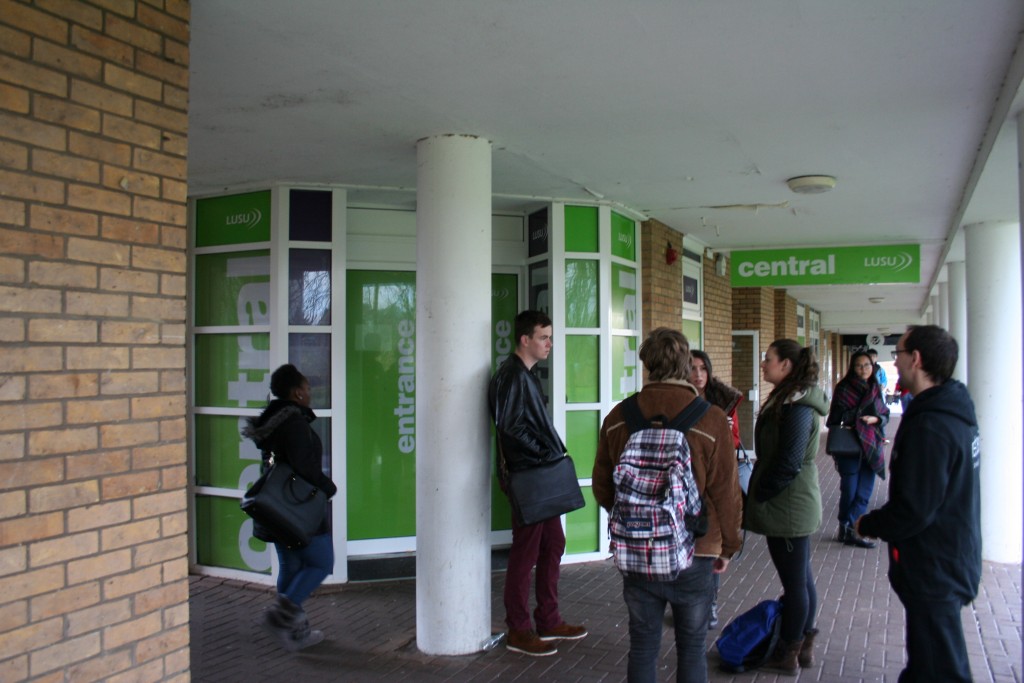 As I walked further, I noticed that there seemed to be a stream of students carrying plastic bags.
At a glance, it seemed that these bags mainly contained bottle drinks, cereal, and biscuits. I assumed that this meant the main campus food shop was open, and decided to go see how empty the shelves were. When I reached it, I was met with the following:
Panic buying certainly seemed to be the activity of choice on campus! I'm told that the shop was accepting cash only and that all ATMs were non-functioning due to the lack of power. I noticed a crowd at the other end of Alexandra Square, and so decided to see what people were looking at.
This flipchart confirmed what I had heard about there being no power until Tuesday. I started thinking about trying to leave Lancaster at this point, and tried to work out what would be the best way to do so. About a month ago I injured my knee playing Lacrosse, and am currently using crutches. This limits my ability to get about. I also have a flat tire on my car which I had been putting off getting fixed due to moping about crutches, so I wasn't able to just drive. I considered trying to change the tire myself, but didn't think I would be able to do so physically. My wrists have also become very sore due to the constant crutch use, meaning I have little strength in them. The garage on campus was closed, and I suspected that the AA would not be able to come help in any amount of time. I tried asking friends if they knew how to change a tire, with no luck. I decided that getting a train would be my best bet, but was unable to find out more info about which lines are/are not shut. As I would need to get a bus to the train station, I decided to check out the underpass that buses leave from.
It was very dark, and quite flooded. There were a few students wandering around in the water to get an idea of it's depth, I'm not sure why they didn't just use a stick or something.
It seemed that the only building open on campus was the main store. Again, there were lots of students milling around aimlessly.
I decided to head home, as we were told that there would be no more updated until 2pm. When I got back a sign was placed on the door to my building.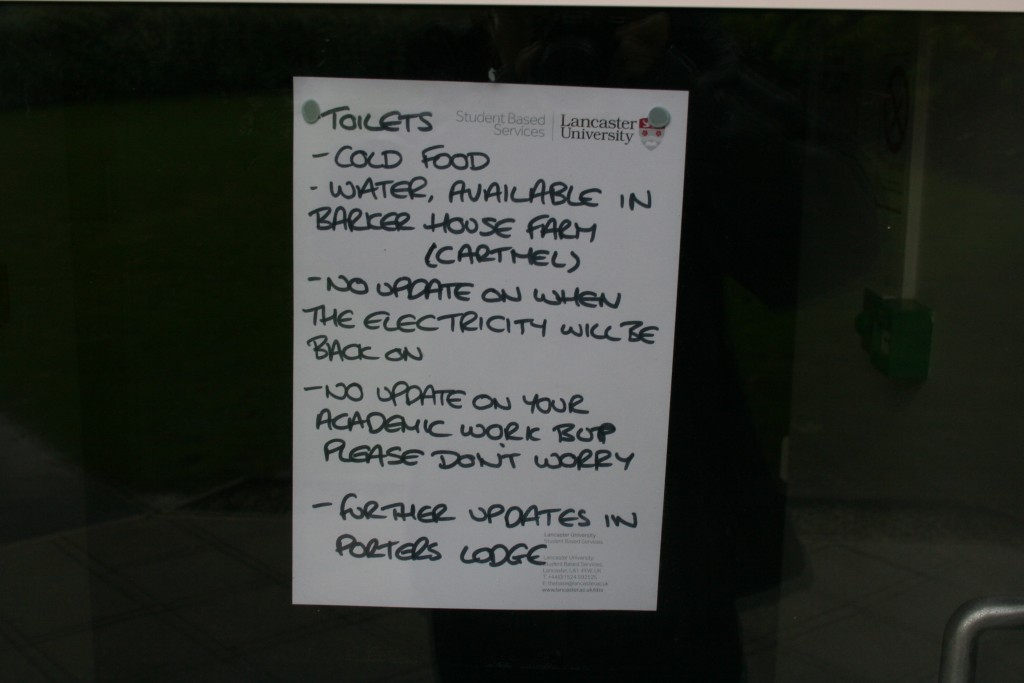 I decided to call Sam and ask if he could try and find out about trains for me. He said that he'd read that Lancaster train station was closing, and that there would be no more trains today. He offered to come pick me up, which I graciously accepted. I then killed some time reading a magazine, before heading out to receive updates. I was told that the University had decided to cancel all lectures for the remainder of the week, meaning that the Christmas holidays would be starting early. They had also made the decision to evacuate the campus, due to their being no water/power in the buildings. A free bus service was being run to Preston from the opposite end of campus, as all train routes between Preston and Scotland were shut.
I called Sam to inform him of this, and he said that he was just leaving and was due to arrive at 5:30 or so. I decided to head back over to Barker House Farm to see if there was any lunch available. I found that they were doing soup, using gas burners. I had assumed that this would be free due to the situation (and that breakfast was free) but no, they were charging £1 for a small cup of soup.
I retreated to my room, and read my book until the light became too low to read (at around 4). I headed down to Barker House Farm again out of boredom. They had lined the counter at the front with battery-powered candeles, which looked quite cool (unfortunately, I did not have my camera with me). They were servicing chicken/vegetables and rice, alongside soup and bread rolls. It was for free this time. They also refilled my water bottle for me. As I was finishing my meal, they received word that they were to shut the building, due to it not having working fire alarms. So, all of the students within were turfed out. I headed back to my room in the dark.
Last week at the Lancaster and Morecambe Maker's Space I had "blinged" one of my crutches by adding some lights to it.
I'm very glad that I had done this, as it provided enough low light for me to be able to navigate the dark corridors of my building/my room. I had a small LED torch that I had picked up as a freebie at a careers fair, but the battery on that did not last for very long. In the end, I used the last of the battery charge on my laptop to read some comics that I had saved while I waited for Sam to come pick me up.
I am now writing this post from Sam's flat in Aberystwyth, but I'm able to keep track of what's happening back in Lancaster via Facebook. It seems that for students that were unable to leave campus, a shelter has been set up in the Great Hall on campus.
Picture by Jun Poey:

Picture by Viraj Bhatia:

Apparently the University has managed to get some generators running there so that students can charge phones to let people know that they are safe. There is also heating, and food/water being provided. Today, students have been allowed to return to their rooms as generators are being used to provide buildings with water. Buildings such as the library now have lighting and so have re-opened, but there is still no WiFi on campus.
The Overhead at Lancaster Facebook group has been full of pictures of the town being posted by residents, and it seems that the flooding is quite bad there. This picture was taken shortly before the power went out, by Jake Hopkins: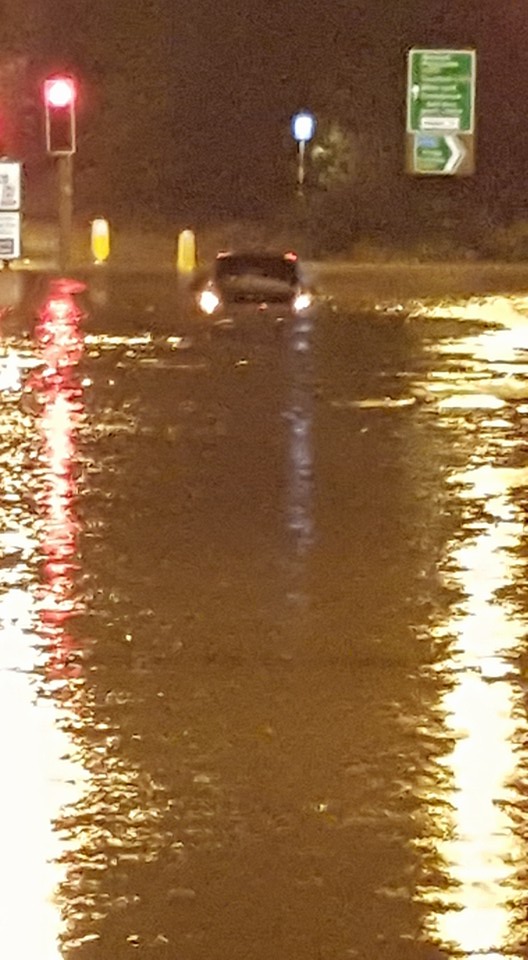 The water levels of the river can be seen in this picture by Daisybank Turkeys: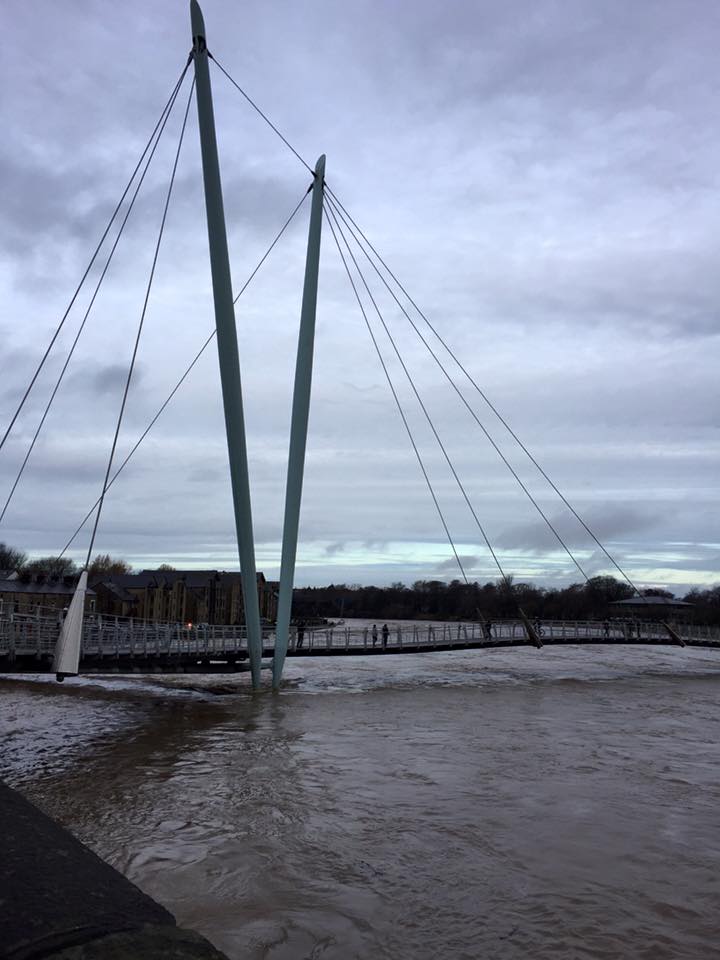 Comparatively, the water level normally looks like this (picture from Way of the Roses):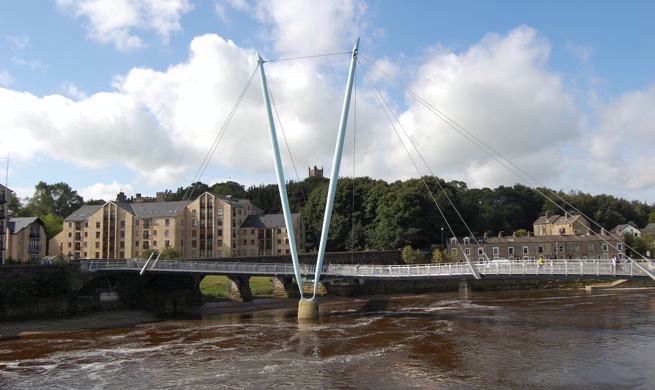 According to National Rail, trail links are still down between Preston and Scotland. They have provided photos of some areas of the track to make a point: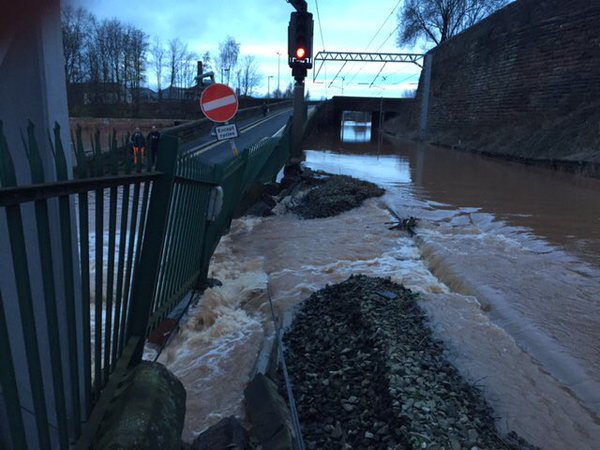 Hopefully the lines will be up and running again soon! I'm planning on returning to Lancaster next Saturday, but I'll see how it goes I guess. It seems that power is back in large amounts of the area now, so it does seem that progress is being made!