On Saturday I visited the Falconry School and had a chat about my project. They did a few more demonstration flights while I was there.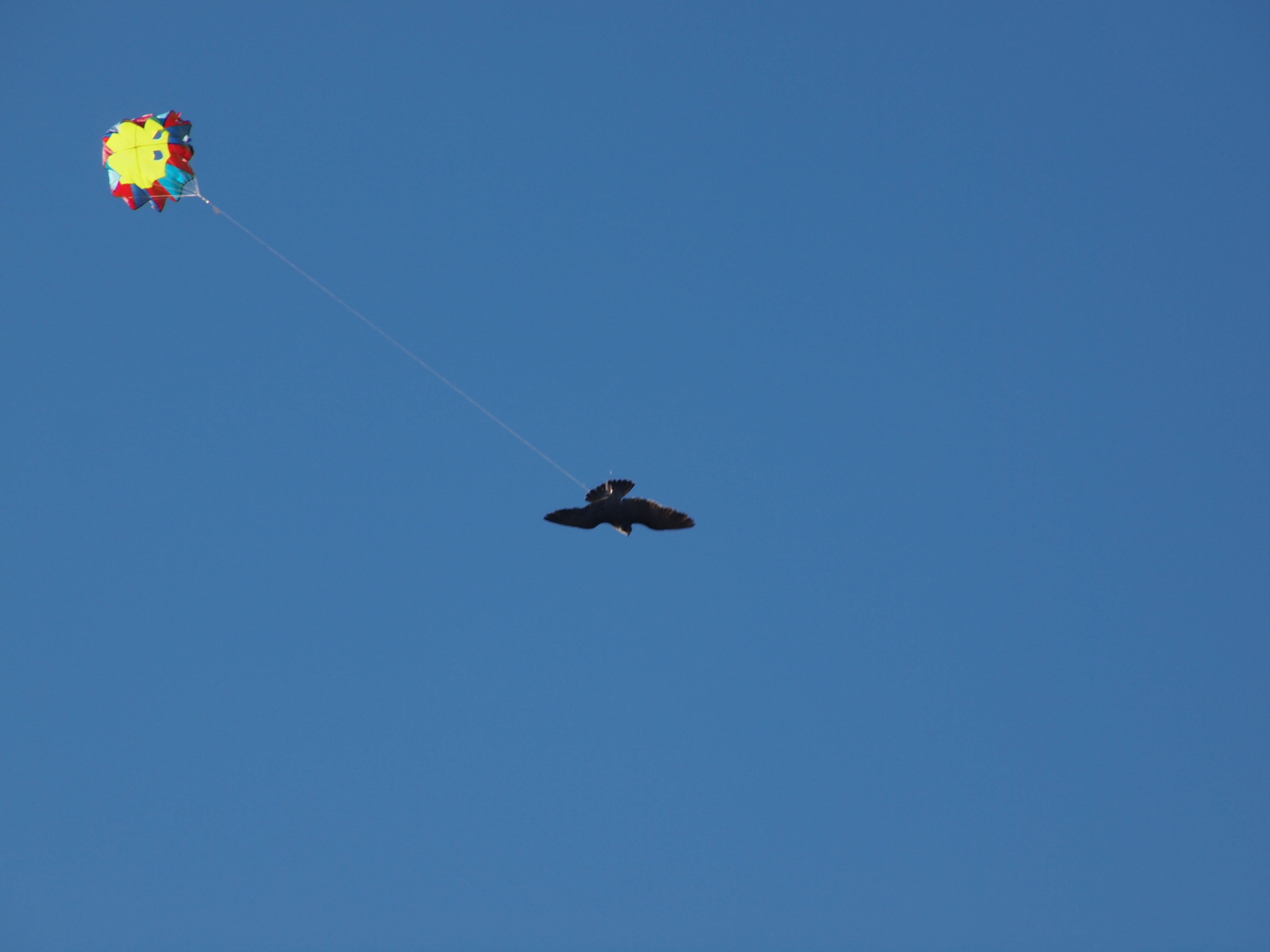 One of the birds that flew (Dinky) was on his second ever UAV lure flight.  Considering this, I think he did quite well!
He has been previously lure trained using a kite, and so is used to taking a lure.  He seemed a bit put off by this method, and tried to fly his way down.  He also made a few passes at the lure before finally taking it.  This behavior could potentially cause the falconer to drop the lure prematurely, and so a bird would likely need to be allowed time to become comfortable with taking a lure from a UAV before the switch is made to the drop method.  I spoke to falconers about the issue of the bird being upside down for too long, but they don't forsee them being upside long enough to cause any issues.
A discussion about the type of bird that could be used for training with a drop lure was had.  The falconers expressed an interest in trying to use kestrels with it.  Kestrels hover in a set spot, and tend to look down.  Apparently they will sometimes look up, and so could spot the lure.  Some trials would need to be ran on which types of birds respond best to dropped lure chasing.  Incidentally, I purchased a lure that can be used in testing the drop mechanism before I return to the Falconry School.
Meat can be clipped or tied on to the lure using the string/toggle.  The large mass at the bottom of the lure is currently full of beans.  A falconer commented to me that they normally cut them out for lure training as you don't need a heavy lure, but thinks that I will probably need to leave them in for the lure to drop well in free-fall.
One of the falconers at the school has has completed a BNUC-S qualification.  This proves his skills in flying UAVs, and allows for him to fly them publicly during falconry shows.  This means that the UAV created for my project could potentially not just be used for bird fitness training, but also in falconry shows.  The falconer that has complete this training is the only one to do so in the UK, meaning that my UAV could be used in potentially unique shows.  They are also looking at purchasing a DJI S900 hexacopter.  This is because it looks more impressive than their current DJI Phantom, for use in shows.  There is not any real need for the increase in power.